Hi all,
We have rolled out a new feature to recognize our most loyal players, a special badge for people who play day after day and day after day!   The new Days Played in a Row badge can be earned by playing at least seven days in a row on the site. 

Once you have earned the badge as long as you keep playing the streak will grow.  If you miss a day your streak resets, but you'll keep a different badge showing the highest streak you have achieved.

If you lose an active streak and then start a new streak, you'll get both badges!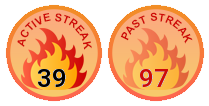 We have also added a leaderboard that shows the current longest gameplay streaks currently active and all time!  Check out these very special players under Scores / Leaderboards.
If you've been playing on the site for a long time and had a prior long running streak you can still unlock the past streak by playing seven days in a row to activate the Streak badges on your account.
This stat is updated once per gaming day.  As this is a very competitive badge to earn and keep we will not make any adjustments to gameplay streaks regardless of reason. 
Enjoy,
Case
---
Founder and Lead Programmer for Case's Arcade, MyLeague.com and Case's Ladder!